Marking and removing dangerous wrecks
A new wreck can be extremely dangerous for shipping. We have obligations regarding the marking or removal of wrecks where there is no harbour authority with such functions.
Maritime trade is essential to the economies of Ireland and the UK. Over 158,000 vessels arrive in Irish and UK ports each year with over 340 million tonnes of imports and depart with over 193 million tonnes of exports. Approximately 24 million international passengers pass through Irish and UK ports each year and over 2.4 million goods vehicles are transported to mainland Europe.
Virtually all international sea traffic travelling to or from northern Europe passes through waters around Ireland and the UK.
Wreck hazards
Keeping our waters safe is an essential task. A new wreck can be very dangerous for shipping, not only when its exact position is unknown and is still unmarked, but even when the position is known and the wreck is properly marked.
In the past, new wrecks have caused problems to shipping, resulting in damage, pollution and even loss of life. If a new wreck poses a danger to navigation, we will consider a range of responses, including deployment of an Automatic Identification System (AIS) or special wreck-marking buoys.
The volume of traffic, background lighting and number of aids to navigation in the area may make the deployment of cardinal or lateral marks difficult for mariners to quickly identify a new danger. In these instances, we may consider deploying an emergency wreck-marking buoy specifically designed to mark new dangers.
Wreck legislation: Our responsibility under the Merchant Shipping (Salvage and Wreck) Act 1993 Part IV, for the Republic of Ireland, and under the Merchant Shipping Act 1995 Section 253(1), for Northern Ireland, is to raise and remove or otherwise render harmless any wreck that it deems to be, or likely to become, an obstruction or danger to navigation.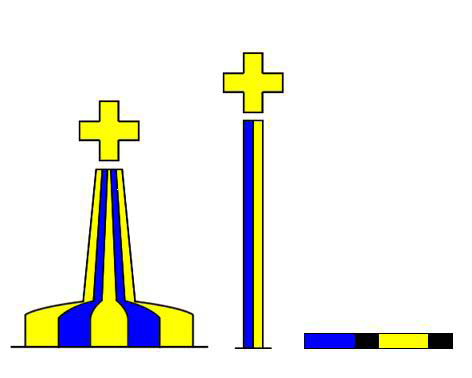 Wreck Buoy Characteristics
A "Wreck Buoy" has the following characteristics:
A pillar or spar buoy, with size dependant on location.
Coloured in equal number and dimensions of blue and yellow vertical stripes (min of 4 stripes and max of 8 stripes).
Fitted with an alternating blue and yellow flashing light with a nominal range of 4 nautical miles (authorities may wish to alter the range depending on local conditions) where the blue and yellow 1 second flashes are alternated with an interval of 0.5 seconds - B1.0s + 0.5s + Y1.0s + 0.5s = 3.0s.
If multiple buoys are deployed then the lights should be synchronised.
Consideration may be given to the use of a racon Morse Code "D" and/or an AIS transponder.
The top mark, if fitted, is to be a standing/upright yellow cross.