Date Released: 8 July 2014
Cork Dockyard Ltd. has won the contract for the 15 year Special Survey and Drydock of the Commissioners of Irish Lights vessel Granuaile following a competitive EU tender.
The contract is part of an overall €650,000 project to confirm continued operation of the ship to Lloyds +100A1 Classification.
Built for servicing Ireland's Aids to Navigation (300 general aids and 4000 local aids) Granuaile also undertakes operations with other state agencies such as Coast Guard and Marine Institute as well as commercial charters.
Inspecting progress at the dockyard today, Irish Lights Chief Executive Yvonne Shields said:
"We are delighted to be back in Cork Dockyard for this important special survey and docking following a successful intermediate drydock here in 2012.  This is a critical drydock for Granuaile, as well as hull and superstructure painting and repair tasks the dockyard work will involve major tank surveys, Schottel Thruster and Bow Thruster overhauls and hull thickness inspections.
Cork Dockyard's tender for this proposal was successful in the face of stiff competition from UK and French yards. Dockyard and ship repair facilities like Cork are important infrastructure for a maritime nation and it is great credit to the Doyle Shipping Group that this facility continues to deliver a high level of service for Irish and international customers. Located close to NMCI and the IMERC campus Cork Dockyard plays an important part in Ireland's Ocean Wealth strategy and Irish Lights is very pleased to be able to bring this important project to Cork".
Welcoming this second Irish Lights contract for Cork Dockyard, Liam Cotter, Dockyard Manager said:
"Cork Dockyard are very pleased to have won this prestigious contract against strong international competition. Granuaile is a technologically advanced vessel providing vital safety services on the Irish Coast and we are proud that Irish Lights have entrusted us with this important 15 year special survey and docking. Ship repair and drydocking have a strong tradition in Cobh and our skilled and committed workforce is a vital part of our offering in securing contracts of this nature".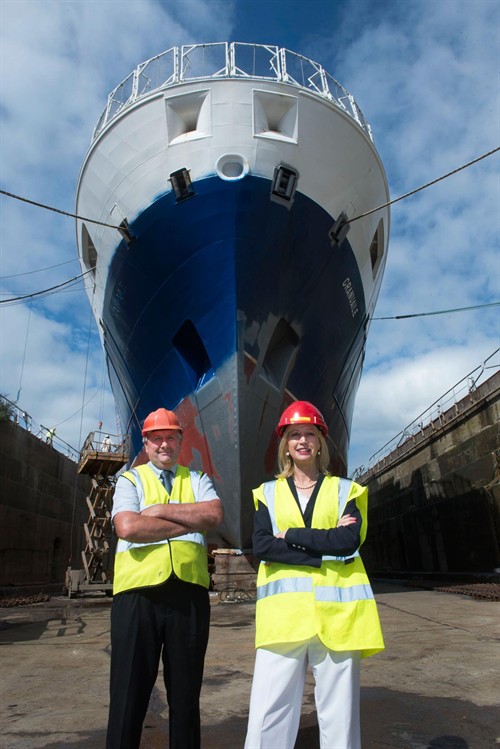 Immediately prior to her arrival on the drydock the Granuaile was engaged on an international charter working on wind farms in the German Bight and the Netherlands. Her services are in strong demand and following the dry dock she will be back servicing aids to navigation on the west coast before undertaking a joint project with the Marine Institute and SEAI to put sensors out to monitor wave energy activity at the SEAI offshore wave energy test site in Belmullet.
Further information: Captain Robert Mc Cabe – Tel: 087 9682537. Email Robert.mccabe@irishlights.ie
Photo images: Gerard McCarthy Photography – Tel: 087-8537228- email germac@germac.ie
Editors Notes.
The Commissioners of Irish Lights is the General Lighthouse Authority for all of Ireland, its adjacent seas and islands.  Irish Lights carry out the obligations of the British & Irish Governments in relation to the provision of Marine Aids to Navigation (AtoN) around the coast of Ireland commensurate with the volume of traffic and degree of risk as specified under the Safety of Life at Sea Convention (SOLAS).  Irish Lights is vested under the Merchant Shipping Acts in Ireland and the UK with the responsibility for superintendence and management of all aids to navigation.
The Irish Lights mission is to provide Aids to Navigation and Allied Services for the Safety of Persons and Infrastructure at Sea, the Protection of the Marine Environment and to Support the Marine Industry and Coastal Communities.
Irish Lights work in close cooperation with the UK GLA, Trinity House and Northern Lighthouse Board.
ILV Granuaile
ILV Granuaile is a modern 80 meter multi-functional vessel whose primary role is the provision and maintenance of aids to navigation on the coast of Ireland. Built in 2000 by Damen shipyards to an Irish Lights design Granuaile is a technologically advanced vessel whose design has been followed by Lighthouse Authorities in the UK and Middle East.
Featuring Dynamic Positioning, azimuthing aft thrusters, gill jet bow thruster, multibeam sonar and a 20 tonne crane Granuaile has been successful in securing international charters for spare capacity not required for her primary function. Charter work has included cable and pipeline surveys, ROV deployment, seismic survey, wreck recovery and inspection, wind park development support and offshore platform inspection. Granuaile also provides support to other state agencies such as Coast Guard and Marine Institute.
Cork Dockyard
Cork Dockyard traces its history back to and is presently operated as part of the Burke Shipping Group who are Ireland's leading shipping company with facilities in all the major Irish ports including; Dublin, Cork, Belfast, Foynes (Limerick), Fenit and Killybegs. Cork Drydock facilities include a 165 meter Graving Dock, a Multi-disciplined and flexible labour team, 44 acre fully serviced site, Deep Water Berths, 40 Tonne Crane, Reinforced quay for 1000 tonne crane, Manufacturing halls and workshops.