From Saturday 29th April – Monday 1st May 2017, a flagship festival will take place across eight of the 12 Great Lighthouses of Ireland. Getting everyone into the summer spirit, delve into amazing coastal experiences, meet storykeepers and guides, enjoy maritime, craft and technology demonstrations while discovering the world of shipwrecks beneath the waves.
For hundreds of years Irish lighthouses have helped seafarers find their way. Today, these stunning structures shine their light on a truly unique experience around the exquisite coastline of Ireland.
Great Lighthouses of Ireland invites visitors and friends to an exciting May Bank Holiday Festival weekend brimming with family fun. With fantastic storytelling and captivating tours taking place in eight of our 12 iconic lighthouses along the Wild Atlantic Way, Ireland's Ancient East and all the way up to Rathlin Island, a memorable, fun-filled weekend is in store.
Come and find yourself immersed in maritime history, surrounded by spectacular natural scenery while discovering the very technology at work in lighthouses today. Visitors can also meet the people and communities who are passionate about these stunning places.
Get great ideas on how best to enjoy the coast this summer, as well as tips on coastal safety, as you explore our towers, discover their hidden secrets and much more. From Hook in Wexford to Valentia Island in Kerry, by Loop Head in Clare to Donegal's Fanad Head and beyond – there's so much to uncover at these towers of light this May Bank Holiday.
So many exciting events
Kick-start the summer with a celebration, throughout the festival each lighthouse location will offer storytelling, local craft demonstrations and competitions.
Reaching the top of a lighthouse tower and embracing those incredible views is a special moment, touring the tower offer visitors a special opportunity to get behind the scenes with experts from the Commissioners of Irish Lights and learn about lighthouse technology and navigation today. Local historians and storykeepers will also provide tours that showcase natural and cultural highlights.  
Festival Highlights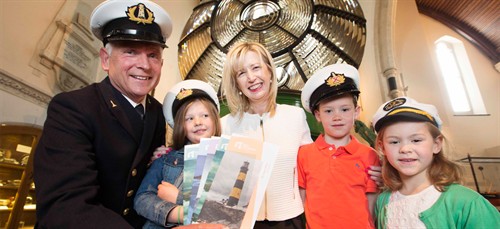 Perched on the windswept eastern edge of County Donegal's Fanad Peninsula, visitors can enjoy a lively weekend of events inspired by maritime life and the relationship between the lighthouse and the local community.
Experience enthralling storytelling by local historians, the lighthouse's storykeepers and former lightkeeper Patsy McGinley, enjoy live music from local musicians or take a free tour of the tower and embrace the breathtaking view. Regularly cited as one of the world's most beautiful lighthouses, visitors can also capture the memories of the weekend spent on Fanad via a unique night-time lighthouse photography tour with acclaimed photographer Rita Wilson. The weekend will also see a Fanad Gaeltacht get together take place with plenty of comhrá, ceol agus damhsa giving a taste of the living culture of the area.

There's also plenty of opportunity to learn something new with craft workshops for adults and children, talks on Fanad Head's beautiful birdlife and seaweed cookery demonstrations and tastings too. With guided coastal walks to the lighthouse also on offer courtesy of Seán Mullan and Ralph Sheppard, you can learn all about Fanad's coast and explore the area's stunning scenery.
Find out more about Fanad Lighthouse
Standing firm on Loop Head Peninsula in County Clare for many centuries, this May Bank Holiday the iconic lighthouse will host two days of fantastic fun with family activities, lighthouse tours, a local food and craft showcase and the chance to learn all about the area's marine heritage too.
Image by Stephen Power
In County Kerry there's plenty happening in the Valentia area to celebrate the historic lighthouse at Cromwell Point. In Caherciveen Library enjoy a series of lectures on the lighthouse, a special book reading, as well as storytelling and talks given by former lightkeepers and historians of Valentia Island's 17th-century fort.
On Sunday April 30th the lighthouse will host a family-friendly open day from 12noon to 5pm, enjoy traditional music in the dwelling house and a heritage talk on Cromwell Fort. Festival-goers can also learn all about the birth of modern communications – owing to the island's transatlantic cable heritage, and hear plenty of stories about the area's impressive International Dark-Sky Reserve status.
Image by Stephen Power
Across the whole weekend visitors can also get snap happy with landscape and lighthouse photography workshops given by award-winning photographer, author and teacher Stephen Power. Suitable for anyone over the age of 16, participants will need to bring a digital camera and a tripod if possible. These workshops are beginner and intermediate-appropriate with participants learning all the practicalities needed to photograph the iconic lighthouse and surrounding scenery.
After all that, you can enjoy some barbecue fun with local food on the menu at the lighthouse too.
Find out more about Valentia Island Lighthouse
One of only two black lighthouses in Ireland, County Cork's Ballycotton Lighthouse Tours will be getting into the spirit of the festival by teaming up with the Ballycotton lifeboat crew on Sunday the 30th of April. The Lifeboat House will be open to inquisitive visitors and the crew will be shining a light on summer safety. Hear tales of shipwrecks and rescue missions, while Ballycotton's 'storykeeper' Eddie Fitzgerald will divulge just what it was like living and working as a keeper on the island.
Don't miss a tour of the idyllic bay courtesy of Ballycotton Lighthouse Tours or the chance to win a relaxing lighthouse trip too, with a competition on the day.
Find out more about Ballycotton Lighthouse
In beautiful County Wexford, Hook Lighthouse, the world's oldest, intact working lighthouse, will be celebrating all things nautical.
On Saturday April 29th from 11am why not kick off the family fun and games by enrolling young mateys in Captain Hook's very special Pirate School. Lawn games, fun adventures and mischief are also on the cards with the lively captain and Pirate Pat, while the truly daring can check out the brilliant bungee trampoline.
Be sure to take a guided tour of the ancient lighthouse and learn all about its rich history too, you can even meet St. Dubhán and the fifth century monks who first established the beacon at the Hook Peninsula.
Take another step back in time with historical re-enactments by Claoimh, who will demonstrate how Medieval life was lived and battles were fought, and don't miss the chance to meet the greatest knight who ever lived – William Marshall. Visitors can also hear seafaring stories from the lightkeepers and their families, who for over 100 years were stationed at Hook and protected all at sea.
A wonderful craft market will also be on-site over the weekend, showcasing the wares of talented crafters from all across the Southeast region.
Visitors will have the opportunity to learn first-hand about safety at sea from members of the Irish Coast Guard across the whole weekend too.
Find out more about Hook Lighthouse
In County Antrim our Northern Ireland partners (Royal Society for Protection of Birds) at Rathlin West Light Seabird Centre will also be taking part in the festival fun.
Enjoy a host of lively events across the weekend, from face-painting to nautical knot-tying. With an 'upside-down' lighthouse to explore, the centre's 125 resident seabirds to meet, not to mention the tens of thousands of visiting birds like kittiwakes and razorbills nesting around the cliffs too, an unforgettable trip is on the cards.
Family-friendly activities will be taking place at the centre from April 29th – 30th, 10am – 4pm.
Find out more about Rathlin West Light

With all this and more happening around the coast this summer, why not plan a trip to one of the Great Lighthouses of Ireland? Find everything you need to know here.
Save
Save
Save
Save
Save
Save