Date Released: 30 May 2014
The Nautical Institute, the international representative body for maritime professionals with 6,500 members worldwide, has elected Captain Robert McCabe, Director of Operations and Navigational Services for the Commissioners of Irish Lights as President of the Nautical Institute at its AGM in Sydney, Australia on 17th June 2014.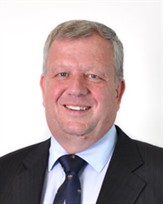 Captain Robert McCabe - President of the Nautical Institute
Congratulating Robert on his appointment, Yvonne Shields, Chief Executive of Irish Lights commented on the importance of the Nautical Institute, who are dedicated to ensuring high standards of professionalism and competence across the shipping industry.
"Safety and Service are watchwords for both the Nautical Institute and Irish Lights and it is a great opportunity for Ireland and for Irish Lights to have Robert McCabe at the helm of such a key international body which has the potential to influence this vital global industry during a period of great change and opportunity. I am delighted that Robert has been honoured with this two year term and Irish Lights are committed to supporting him to the fullest extent possible throughout". 
Reflecting on the global nature of the marine industry Captain Robert McCabe commented,
"it was interesting in Australia to see the authorities there implementing many of the same strategies adopted by Irish Lights such as Real and Virtual AIS AtoN, modern light sources, and e-Navigation. I know my time as NI President will benefit both Irish Lights and NI.  Safe and efficient marine transport is vital to Ireland's economy and to our coastal environment. High standards ashore and afloat are common issues for the NI and for CIL".
ENDS
For further information please contact:
Manus Weed
Commissioners of Irish Lights