More than eight weeks ago, Bobby Kerr, Chair of Great Lighthouses of Ireland helped kick off summer in fine style when he announced the 'Great Lighthouse, Great Fun' photography competition. Inviting all to discover the amazing coastlines of Ireland, the challenge was simple: take a photograph that best captures and expresses the best of summer fun at a lighthouse.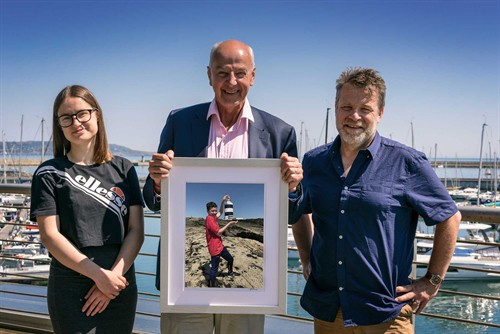 "We had a huge number of entries, all a fantastic reflection of Ireland in summer... it was a challenging task for our judges to select (a) final ten, then five and (lastly) the winner," Kerr said.
"The winning image of Gar Heffernan holding Hook (Lighthouse) in his hands captured the

essence of summer fun at our lighthouses. Well done, Gar. We look forward to

meeting you," said Kerr.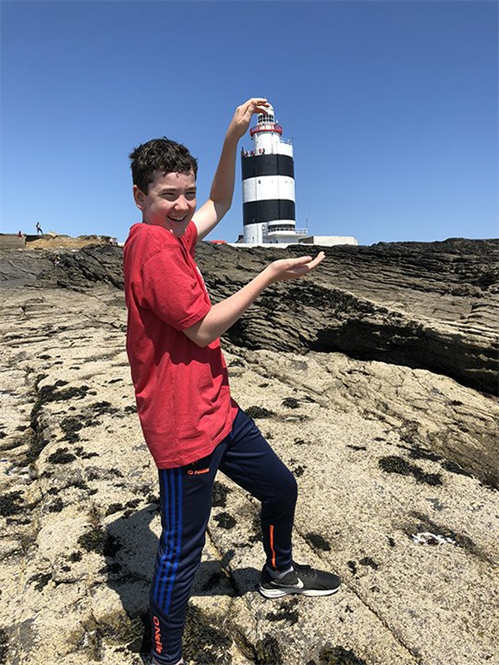 Gar and his family will enjoy a fantastic bespoke Great Lighthouses of Ireland experience
for four people, which will include:
·A two-night stay at any of the Great Lighthouses of Ireland self-catering houses 
·A personal tour with our leading storykeeper at any of our lighthouse attractions 
·A unique opportunity to meet the Irish Lights historian at Howth's Baily Lighthouse to learn all about the history and heritage of Irish Lights 
·A chance to meet the Irish Lights team and learn more about how navigational aids work today
Speaking from SeaFest, Galway, Yvonne Shields, Chief Executive of Irish Lights said:
"We look forward to welcoming our 'Great Lighthouse, Great Fun' winner and guests to

Irish Lights to see the work involved in ensuring safe navigation around the coast of

Ireland and (to) meet the team, whose technical and engineering expertise contributes to the

development of our maritime economy. This weekend, we encourage all to come on

board the Granualie at Seafest."
Great Lighthouses of Ireland is an exciting collaboration between many private and public organisations in coastal communities, led and supported by Irish Lights. For event details and information about and booking Great Lighthouses of Ireland, see: 
Website: www.greatlighthouses.com/shine-a-light
Twitter: @gtlighthouses | https://twitter.com/gtlighthouses
Facebook: @greatlighthousesofireland | https://www.facebook.com/greatlighthousesofireland
For full details and the competition terms and conditions, see: http://www.greatlighthouses/com/stories/great-lighthouse-great-fun-photography-competition/ 
For further information, please contact:
Ethna Murphy, Brand Development Manager, Great Lighthouses of Ireland
Email: ethna@ethnamurphyconsulting.com
Tel: +353 (0) 86 8385269
-Ends-
Notes to Editor
The Great Lighthouses of Ireland project has been funded by the European Union's
INTERREG IVA cross-border programme, managed by the Special EU Programmes Body (SEPUB) 
Great Lighthouses of Ireland partners include: the Irish Landmark Trust; Commissioners of Irish Lights; the Royal Society for Protection of Birds; Forbairt Fhanada Teoranta (Fanad Community Group); Clare County Council; Ballycotton Lighthouse Tours; Mid and East Antrim Borough Council; Hook Heritage Ltd., Valentia Island Development Company; Kerry County Council; Clare Island Lighthouse, and Titanic Foundation. 
Great Lighthouses of Ireland is also supported by Fáilte Ireland, Tourism Northern Ireland and Tourism Ireland. 
Great Lighthouses of Ireland: 
St John's Point, Co Donegal
Fanad Head, Co Donegal
Rathlin West Light, Co Antrim
Blackhead, Co Antrim
St John's Point, Co Down
Wicklow Head, Co Wicklow
The Great Light and Titanic Walkway, Belfast
Hook, Co Wexford
Ballycotton, Co Cork
Galley Head, Co Cork
Valentia Island, Co Kerry
Loop Head, Co Clare
Clare Island, Co Mayo
About Commissioners of Irish Lights 
Irish Lights is a maritime organisation delivering essential 24/7 safety and navigation
services around the coast of Ireland 365 days a year. Our focus is on reliable and cost-effective services which protect people, property and the marine environment, and support marine industry and coastal communities. 
Irish Lights is responsible for providing marine aids to navigation under the Safety of Life at Sea (SOLAS) convention. This remit includes: providing and maintaining over 300 general aids to navigation, managing about 4,000 local aids to navigation, and marking or removing dangerous wrecks outside harbour areas around Ireland. Irish Lights also provides contract commercial services for ship charter, buoy and marine data services and supports tourism and heritage activities.
W: www.irishlights.ie T: @irishlights
FB: https://www.facebook.com/commissionersofirishlights/
Great Lighthouses of Ireland is a partner of Leave No Trace Ireland, and
promoters of responsible outdoor recreation. See leavenotraceireland.org.