The official re-opening of one of Northern Ireland's most iconic tourist destinations; the Rathlin West Light – was an exciting day filled with the storytelling, wonder, and hopes for the future.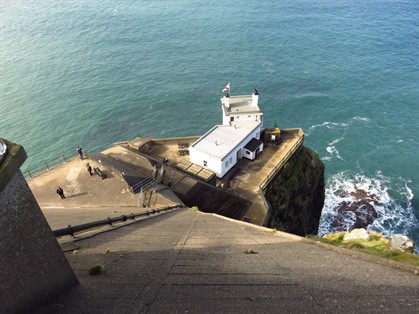 The attraction has recently undergone major refurbishment and will re-open to the public on Thursday, 24 March – just in time for the Easter holidays
The refurbishment has seen a complete upgrade of the visitor centre and, for the first time, it will be possible to access the 'upside down' lighthouse built on Rathlin's cliffs.
Rathlin Island is Northern Ireland's only inhabited island and is also home to one of the UK's largest seabird colonies.
Speaking at the event, Yvonne Shields; Chief Executive of Irish Lights, remarked;
"Irish Lights is delighted to be collaborating with RSPB on this project.  Together we have established a partnership to create and deliver visitor experiences we can all be proud off.

This is a really important project for Irish Lights for many reasons   – we have a long and rich history and connection to the coast and its communities in our role in providing navigation services for nearly 250 years.   As the keepers and custodians of some of the most spectacular maritime heritage properties on the Island of Ireland this is a particularly special lighthouse – the only "upside down" lighthouse in Ireland.   It represents an extraordinary feat of engineering as it was built into the cliff face, and a special pier and an inclined railway from the pier to the cliff top had to be built to facilitate its construction. "

"Magical Stories and Great Lighthouses of Ireland go hand-in-hand for hundreds of years lighthouses have helped seafarers find their way. Today I am delighted to be in  a truly unique place that takes the showcases the best of our natural and build heritage – the amazing sea life and nature and our upside down lighthouse!"
Joanne Sherwood; Director of RSPB in Northern Ireland commented;
"As I was preparing for today, I went back to watch the video that accompanied the Great Lighthouses of Ireland Brand launch.  The backing track was a wonderful song by Roisin O called "This love it heals my soul".
Joanne Sherwood continued;
"This project of romance – the marriage of the seabird colony and the lighthouse that makes this attraction so special – is one to be savoured.  So keep in mind the poetry of WH Davies who said

A poor life this if, full of care,

We have no time to stand and stare

As we move now so that Joe can (Presenter of Lesser Spotted Ulster) cut the ribbon to officially open the West Light Seabird Centre, take a moment among the busyness of this afternoon to stand and stare and let this project of romance speak your soul."