The Irish Lights Vessel, Granuaile, was involved in the rescue of two sailors and the successful salvage of their stricken yacht on Saturday 5th April near Arklow. The yacht was taking water and was close to sinking when the Granuaile came alongside it and used salvage pumps to pump the vessel dry, locate the source of water ingress and plug the damage in its hull.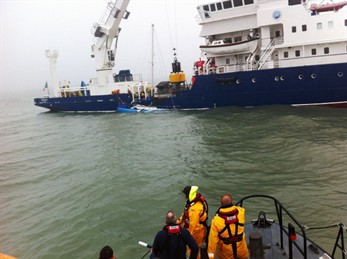 The Granuaile had been operating at the South Arklow buoy when the Mayday call was heard over the VHF radio. The call was answered by Wicklow Head coastguard radio who then dispatched the Arklow lifeboat and Rescue 116 from Dublin Airport. The stricken yacht was approximately 4 nautical miles east of Arklow with two people onboard and was taking water through what later turned out to be a broken speed log protruding through the hull. The Granuaile responded to the call and immediately proceeded to the incident that was 6 nautical miles north (25 mins away) from its position. Other vessels in the area also responded.
Before the Granuaile arrived on scene, the Arklow lifeboat had taken the two crew off the yacht. However, due to worsening conditions and fears that the yacht might be swamped, the lifeboat had to abandon efforts to pump the yacht out before the Granuaile arrived. When the Granuaile arrived, the crew were able to secure the yacht alongside and commence salvage operations. The ship's salvage pumps were used along with a pump transferred from the Arklow lifeboat. With the level of water inside the yacht falling the damage was identified and a plug inserted into the hole in the hull making the yacht water tight and secure.
Eventually the yacht was pumped dry and was handed over to the Arklow lifeboat crew who took it in tow back to Arklow.