Raise much-needed funds for children's charities with our €10 Lighthouse Storybook
The 'Become A Young Storykeeper' initiative, developed by The Commissioners of Irish Lights' (Irish Lights) tourism and community partnership, Great Lighthouses of Ireland, and creative writing organisation Fighting Words, invited submissions of original writing inspired by lighthouses from young writers aged 7-12.
What followed was an incredible influx of stories, poems, illustrations, comic strips, song lyrics and even stop-motion animations. The unprecedented response from young writers around the island of Ireland and abroad quickly turned our original one-off digital magazine into a five-volume one!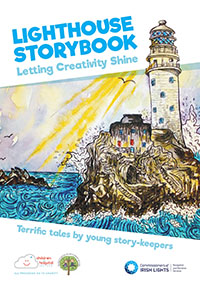 Now, just in time for Christmas, Irish Lights is sharing the highlights of this exceptional writing initiative as an inspirational book.
Not only will the book share these talented children's wonderful, original stories; its proceeds will support two incredible charities and the great work they do for children nationwide – Children in Hospital Ireland and Northern Ireland Hospice.
For hundreds of years lighthouses have kept seafarers safe, helping them find their way with a guiding light so it is fitting to support these invaluable organisations that help children navigate their way through trying times.
A fantastic way to support the work of two worthy charities through the hardships of COVID-19 restrictions, all the proceeds of this unique €10 book go direct to the organisations.
Brimming with stories and illustrations from the children themselves and by Fighting Words' volunteer team of illustrators, order your copy of Lighthouse Storybook: Letting Creativity Shine.